Don't miss our next fundraising Memorabilia Bazaar! This event features dealers' tables, with stills, posters, books, campaign books and publicity material, equipment, ephemera, dvds and films of all gauges, plus a Bring & Buy stall. It will be opened by actress Sheila Steafel.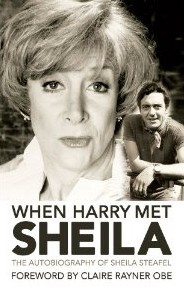 Sheila will also be doing a Q&A about her wide-ranging career, which has included the films Daleks – Invasion Earth 2150 AD (1966), Quatermass and the Pit (1967), Goodbye, Mr. Chips (1969), Some Will, Some Won't (1970), co-starring her ex-husband Harry H. Corbett's acting partner Wilfrid Brambell, and Percy (1971). In addition Sheila has had numerous television roles and has worked extensively on BBC radio: for several years in the 1970s and 1980s she was a cast member of Radio 4's weekly satirical show Week Ending. She will be signing copies of her autobiography When Harry Met Sheila: The Autobiography of Sheila Steafel, which will be for sale. 
Additionally, Alex Rock (De Montfort University) gives an insight into indecent behaviour at the Rank Cinema in Finsbury Park during the Great War, as recorded by the local police and do-gooders, in his talk "'The whole of these people were behaving in a disgusting manner", and Ronald Grant will be giving a presentation on collecting stills.  
The bazaar runs from 10.00 to 16.00 and there will be refreshments available.  
Tickets & Pricing
Admission: £5 on the door.