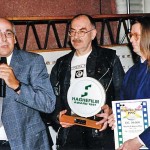 In 1997 The Cinema Museum was awarded the Haghefilm prize at the Pordenone silent film festival for the restoration of a group of fiction films from the Blackburn-based Mitchell & Kenyon company, dating from 1899-1906. The restoration was made from original camera negatives acquired at auction by the museum in 1995.
In 1897, Sagar Mitchell and James Kenyon founded what has been rediscovered as one of the largest film producers in the United Kingdom in the 1900s, following the discovery of negatives in a Blackburn basement in 1994. The firm traded under the name of Norden, and produced films both on its own initiative and as commissioned by local businesses. While the bulk of Mitchell and Kenyon's output was non-fiction, providing a new and fresh view of Edwardian England and an important resource for historians, they also produced some fiction gems.
The Cinema Museum's collection of Mitchell & Kenyon films are of two types. The majority – 65 of them – are Norden fiction films, little comedies that are largely about people in authority being taken down a peg or two. The anarchic northern humour is very different from the more genteel output from contemporary Brighton studios such as James Williamson's. Highlights include Diving Lucy (1903), billed in the United States as 'the biggest English comedy hit of the year':
The remaining 15 are fake Boer War films, produced following the outbreak of the South African war in 1899. Since the cameras of the time were too big and bulky to get near the action, Mitchell & Kenyon reconstructed in the countryside outside Blackburn events that were reported in the newspapers. Though clearly not South Africa to the modern eye – and perhaps even at the time accepted as dramatic re-enactments – these films were very popular, with their stories of heroism. Screenings were enlivened by smoke bombs and guns being fired.
All the Museum's Mitchell & Kenyon collection have been preserved. The nitrate negatives were in extremely good condition; these have been transferred to new negatives, and new positive prints have been made. Currently a version is held on Digibeta, and the Cinema Museum is in discussion with the BFI about a DVD release. Meanwhile here is a taste of the collection, in the form of Diving Lucy (1903)…
[tube]9Gj571Y_hes[/tube]