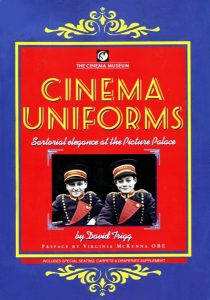 Cinema Uniforms – Sartorial Elegance at the Picture Palace 3rd Edition, by David Trigg
Pen2Print, 2017
310 pages
A richly illustrated history of Cinema Uniforms with comprehensive references from Trade Periodicals.
This special extended edition (by 136 pages) of the Cinema Uniform book, in its mission to celebrate old-time cinema-going, now includes a bonus section devoted to vintage cinema seating, carpets and draperies. When viewed together they inherently add to the overall atmosphere and richness of décor in which the uniformed staff worked.