Kennington Bioscope are delighted to announce a further sampling from Kevin Brownlow's extensive collection of vintage 9.5mm prints.
Piano accompaniment will be provided by Colin Sell, the pianist for the BBC's I'm Sorry I Haven't a Clue, along with John Sweeney. Very exciting news, as this is the first time that Colin has accompanied a Kennington Bioscope screening.
For those unacquainted with the format, 9.5mm was a home movie gauge launched in the 1920s and is of similar quality to 16mm. Many silent films survive only in this form. Kevin began his career by collecting films on 9.5mm in the 1950s.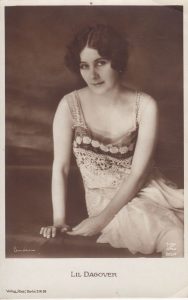 Two of the films to be shown feature German film actress Lil Dagover:
The Maelstrom of Paris (Le Tourbillon de Paris) directed by Julien Duvivier in 1928, and starring Lil Dagover, Léon Bary and Gaston Jacquet. Based on the novel La Sarrazine by Germaine Acrement, adapted by Duvivier, this is the story of the troubled marriage between Lord Meredith (Jacquet) and his wife, Amiscia Negeste (Dagover), a famous opera singer.
The Chronicles of the Gray House (Zur Chronik von Grieshuus) (1925), directed by Arthur von Gerlach, produced by Erich Pommer and starring Arthur Kraußneck, Paul Hartmann, Rudolf Forster and Lil Dagover. It is also known as At the Grey House. Set in the 17th century it follows the intrigues of the son of a feudal landowner who falls in love with the daughter of one of the serfs, causing his younger brother to see an opportunity for himself. The screenplay by Thea von Harbou is based on Theodor Storm's novella A Chapter in the History of Grieshuus. Kevin says that this was a great influence on his own film Winstanley (1975).
Anyone interested in silent film should visit the website for more info.
Tickets & Pricing
£5. Seats are limited, so please request an invitation using the email kenbioscope@gmail.com.