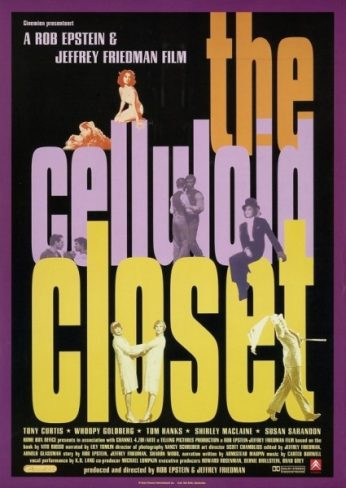 ReShape and the Cinema Museum are proud to present the 2020 season of The VITO Project, a series of monthly screenings bringing generations of LGBT+ people together to provide an alternative space to mix, watch great films and share ideas.
The 2020 season kicks off with a very special 25th anniversary screening of the ground-breaking documentary The Celluloid Closet (1995) – presented, of course, from an archival 35mm celluloid film print.
Based on Vito Russo's 1981 book of the same title, The Celluloid Closet provides an essential examination of LGBT+ representation in Hollywood movies from the silent era to the mid-90s. Through interviews of artists, actors and historians connected to the industry, the documentary looks at how censorship mandates by the Hollywood Production Code helped in the proliferation of coded gay characters and cruel stereotypes that dominated the film industry for decades.
From challenging representation on films such as The Silence of the Lambs (1991) to unpicking hidden queer subtext in established classics such as Spartacus (1960) and Rebecca (1940), The Celluloid Closet provides an enlightening, entertaining and still much relevant alternate version of heteronormative film history.
The screening will be followed by a panel debate discussing the legacy of the movie and changes in queer representation in film since its release.
Stay tuned for screenings inspired by The Celluloid Closet in 2020. The first is a double bill of queer gothic horrors by James Whale: Bride of Frankenstein (1935) on 35mm and The Old Dark House (1932), taking place on 23rd February. Tickets now on sale here.
Watch film trailer
Film running time: 1h 42min
Venue accessibility: The Cinema Museum is level access. There is a lift, and an accessible toilet large enough for a motorised wheelchair, with an easy lock and handrails. Some of the interior doors are heavy. There is parking available at the Cinema Museum. The building does not have a hearing loop. Please send us a message if you have any questions about accessibility.
Doors open at 17.30, for a 18.30 start.
Refreshments will be available in our licensed cafe/bar.
TICKETS & PRICING
Tickets £6.
Advance tickets may be purchased from Ticketlab, or direct from the Museum by calling 020 7840 2200 in office hours.