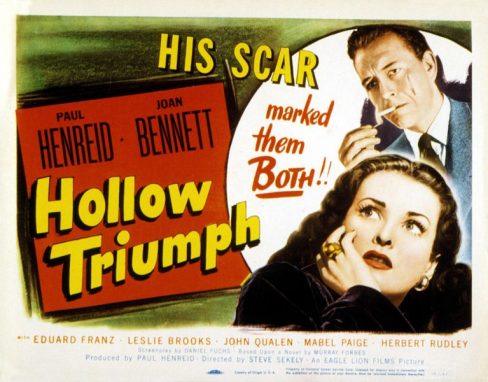 Kennington Noir presents Hollow Triumph (1948), directed by Steve Sekely, and starring Paul Henreid, Joan Bennett and Eduard Franz. The film was also known as The Scar and The Man Who Murdered Himself.
John Muller (Paul Henreid), medical school dropout and also brilliant crook, plans a holdup at an illegal casino. The robbery goes wrong, and he soon finds the vindictive casino owner is after him. At the end of his tether, Muller stumbles onto a lucky chance to assume a new identity as psychiatrist Victor Bartok, but irony piles on fast as Muller finds it's a case of "out of the frying pan, into the fire".
Featuring top notch atmospheric cinematography by John Alton, this was the first of two "by the miracle of plastic surgery" films starring Paul Henreid, the other being a Hammer production in England, Stolen Face (1952).
Digital presentation. Plus full supporting programme. If you want to see only the main feature, please arrive by 8.15 latest. This will be screened in the small downstairs cinema, so early booking is recommended.
Doors open at 19.00, for a 19.30 start.
Refreshments will be available in our licensed cafe/bar.
TICKETS & PRICING
Tickets £6.
Advance tickets may be purchased from Billetto, or direct from the Museum by calling 020 7840 2200 in office hours.