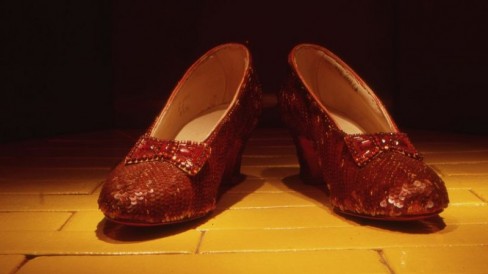 ReShape and the Cinema Museum present the third season of the VITO Project, a series of free monthly screenings bringing generations of LGBTs together to provide an alternative space to mix, watch films and share ideas.
The VITO Project is delighted to present The Slippers, a 2016 documentary by Morgan White, recently screened at the BFI Flare Festival.
Through first-hand accounts and archival interviews, The Slippers details the life of Dorothy's Ruby Slippers from The Wizard of Oz (1939) after their sale at the famed 1970 MGM auction. Discovered by costumer Kent Warner, it is unclear how many pairs were found and how many pairs exist. That mystery has only helped to propel the shoes to the forefront of the Hollywood memorabilia market. They have been bought, stolen, and coveted by many. They are considered the most important piece of Hollywood memorabilia and the catalyst for the creation of Hollywood memorabilia collecting.
The screening will be followed by an open discussion, with speakers to be announced.
The project is endorsed by BFI Flare: London LGBT film festival, 56 Dean St, QX Magazine, Gay's the Word, ACT UP London, Gay Mates, a Change of Scene, the Cara Trust, I-Base, UK-CAB, Positively UK, Gaydio, NAZ Project, Frank Byrne & his walkers and Broad Appeal Podcast.
Doors to the cafe/bar will open at 18.00 for a 19.00 screening. Come early to secure a seat as it can get very busy and we do not take bookings. The doors to the Cinema will be shut once capacity is reached.
TICKETS & PRICING
This is a free event but we need your donations on the night to ensure the continuation of the VITO project. All donations go towards covering the costs associated with running the event (film licences, heating and lighting, rental of the premises, printing, promotion etc). Donations are VITO's only source of funding and we need to raise an average of £5 per person just to cover our costs. So PLEASE DIG DEEP and give us a paper donation if you are able to.
Find out more about the VITO Project on their website.