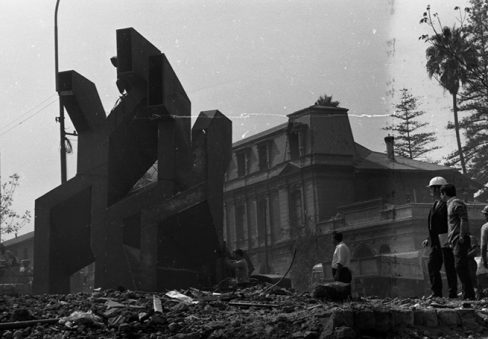 alborada presents the Chilean documentary Gas Leaks (Escapes de Gas) (2014), followed by a Skype Q&A with the director Bruno Salas.
Chile, 1972. During the Salvador Allende government, 34 artists were called upon to create works which would be incorporated into a new piece of architecture: the UNCTAD III building (United Nations Conference for Trade and Development), today known as GAM. However, after the 1973 Pinochet coup d'état, the military occupied the building, renamed it, destroyed its works of art, and transformed it into a symbol of military dictatorship. Forty years later, Joaquín Maruenda, son of the late sculptor Félix Maruenda, finds a record of the UNCTAD II project that leads him to investigate his father's "Chimeneas" (Chimneys) sculpture and its possible restoration. Joaquín, together with artists and construction workers of the original building, will try to answer the question: why did they destroy the art work?
More info about the film here:
https://www.ica.art/whats-on/architecture-film-festival-london-2017-escape-de-gas-discussion
Watch the film's trailer here: https://www.facebook.com/alboradanet/videos/10155066215375642/
From 18.00-22.30 there will be another film screening of the Brazilian film The Cambridge Squatter (Era o Hotel Cambridge) (2017). More details here.
Doors open at 13.00, for a 14.00 start.
Food (including Chilean empanadas) and drink available throughout the day.
More info on their Facebook page.
TICKETS & PRICING
Advance tickets: £6/£5 concessions, and for both films £10/£8 concessions, available from Ticketsource. More on the door.
For more information email info@alborada.net.