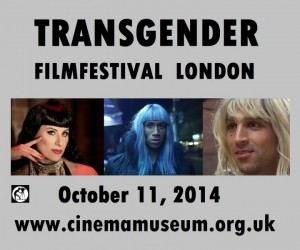 The new festival presents feature films and documentaries about Drag Queens, Drag Kings and Transsexuals
TRANSGENDER FILMFESTIVAL LONDON
will be held at London's Cinema Museum from 18.00 till midnight, offering many awarded short films that give an insight into trans-life.
TICKETS & PRICING
£5 per screening and £12 to see all 3 programs.
Advance tickets may be purchased from Billetto, or direct from the Museum by calling 020 7840 2200 in office hours.
---
18.00 PROGRAM: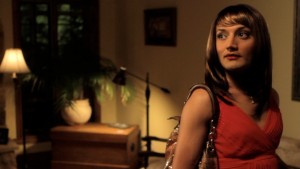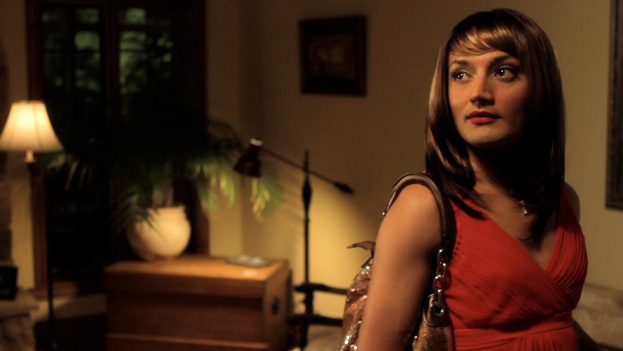 Directed by Eisha Marjara (Canada)
18 minutes, english language
A transperson in the suburbs: a story about love and lies
More on the film's website.
Directed by Gsus Lopez (UK)
2 minutes, english text
Your female side and your male side. They want to meet
Transgender Film Festival Germany Award: Best short film
Read more about Gsus Lopez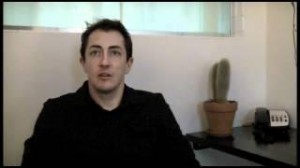 Directed by Buck Angel (USA)
7 minutes, english language
Interview with a transman
Transgender Film Festival Germany Award: Best short documentary
Read more about Buck Angel
Directed by Anne Zohra Berrached (Germany)
28 minutes, german language with english subtitles
Documentary about a couple. The man likes crossdressing and has affairs. This woman loves him but can't understand what he does.
Winner: Award for best documentary film
Check out the film's Facebook page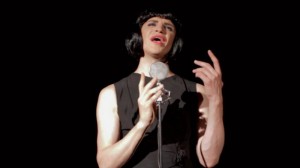 Directed by Thomas C. Tröger (Austria)
20 minutes, german language with english subtitles
A man dreams to dress as a woman and become a singer.
Transgender Film Festival Germany Award: Best trans-performance, best song
Check out the film's Facebook page
Directed by Stefan Blomquist (USA)
18 minutes, english language
New Year's Eve for a Crossdresser in New York who gets a phone-call from the past
More about Miss D on IMDb
---
20.00 PROGRAM:
Directed by bruce (France)
30 minutes, french with english subtitles
Documentary about changes in life and the representation on official documents. Raising important questions of identity and appearance.
Watch a teaser:
[tube]ZjOamg58svY[/tube]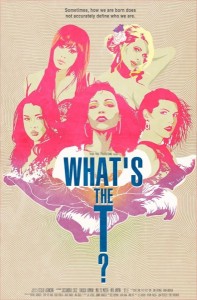 Directed by Cecilio Asuncion
(USA)
60 minutes, english language
Documentary about
MtF-Transgender Persons
in the San Francisco Area.
These women represent normality
and abnormality, seamlessly, in
their daily efforts to achieve
a balance of yin and yang, as
the day may require.
See the film's website
---
22.00 PROGRAM:
Bright Sparks and Darkness (2013)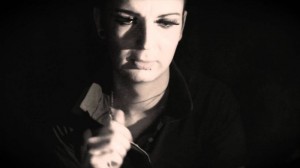 Directed by Tom Stock (UK)
7 minutes, no language
Short film with a vintage look
Winner best trans-performance at Transgender Film Festival Kiel/Germany
Read Tom's Facebook page
Remember Gay Love Story (2012)
Directed by Ann Antidote (Germany)
with Kay Garnellen
7 minutes, no talk
Subcultural documentary about two men
Check out the film's Facebook page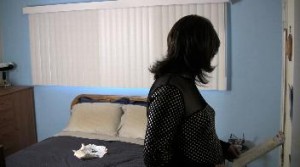 Directed by Eric Casaccio (USA)
18 minutes, english language
Sad Randall dresses up as Sophia
See the film's website
Directed by Simon Savory
Starring Ronx, Symara Templeman, Matilda McNair, Arna Walts, Tomisin Adepeju and Steve Toussaint
7 minutes, english
A daughter who chooses to dress, and express, as a boy. Going out into the night, she sets off on a journey to find love, and eventually herself, in the colourful underground nightspots of East London
Read Simon's blog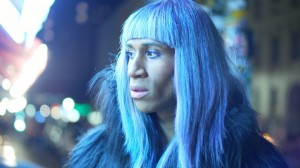 Directed by Simon J. Paetau (Germany)
23 minutes, english language
Posh is a film about RONIQUE XXX a Berlin based artist and scientist experimenting with life as an extraterrestrial in human form. She writes, composes and performs her own invention of sound called Hard Sci Fucking' Funk
Read Simon's blog
Directed by Tim Brunsden and Andy McCann (UK)
English language, 7 minutes
Film about Vikki-Marie Gaynor
Read more about Tim Brunsden and Vikki-Marie Gaynor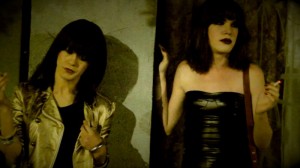 Directed by Kerri Cecil (USA)
10 minutes, english language
A film about love conquering hate.
Two Awards in Germany: Best short film of the Year, Best Trans-Performance Emily Lucid
See the film's Facebook page
Directed by Gaetano Guido
(USA 2012)
4 minutes, english language
Music video starring Faith Michaels
---