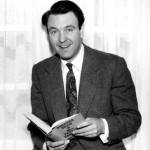 From success in Rank films in the 1950s to leading Shakespearean actor and star of TV and West End stage, Donald Sinden looks back at his career, in conversation with BFI fiction curator Jo Botting.
Originally apprenticed in the building industry, Donald Sinden was spotted in an amateur theatrical production and asked to join a company that entertained the troops during the Second World War. In the 1950s, he was under contract with the Rank Organisation at Pinewood Studios and did an astonishing 24 films in eight years, most notably The Cruel Sea, Doctor in the House, and Doctor at Large.
A 1956 profile describing him as "one of the country's prime box-office favourites" noted that British women had recently voted him "the face we'd most like to see across the breakfast table".
His television work has included guest starring in the cult 1960s drama The Prisoner, playing Elaine Stritch's butler in the 1970s series Two's Company, and starring alongside Windsor Davies in the sitcom Never The Twain from 1981 to 1991, while more recently he has been a regular in Judge John Deed with Martin Shaw. His unmistakable voice has also been frequently heard in radio drama.
Theatre, however, remained his first 'love', and he has been an Associate Artist of the Royal Shakespeare Company since the early 1960s, and has starred alongside Peggy Ashcroft and Judi Dench. In 1977 he won the Evening Standard Award for Best Actor for the title role of King Lear, with other notable performances in Much Ado About Nothing, Twelfth Night, and London Assurance.
Donald Sinden was knighted in 1997.
Doors open at 18.30 for a 19.30 start, and the event is expected to end at 22.30.
Refreshments will be available.
Tickets & Pricing
Autumn Season 2012 ticketing applies. Advance tickets may be purchased from WeGotTickets.