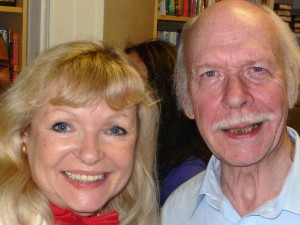 For this evening's event, well-loved comedy actor Brian Murphy and his wife, actress & crime novelist Linda Regan, look back at their careers in film, theatre, television and fiction-writing.
Brian Murphy was an original member of Joan Littlewood's Theatre Workshop, alongside many other now-famous names whose careers were launched in this radical ensemble, including his later TV co-star Yootha Joyce, Sheila Hancock, Harry H. Corbett and Murray Melvin. While with the company, he created the roles he played on stage in Sparrers Can't Sing (1960) and Oh, What a Lovely War! (1963), the former performance being reprised in a subsequent film version.
A jobbing actor in the 1960s and early 1970s, he combined his theatre work with appearances in classic television shows including The Avengers, Z Cars and Dixon of Dock Green, before being cast in the role which would make him a household name, as the lazy and scheming George Roper. He played opposite Yootha Joyce's Mildred in first Man About the House, with Richard O'Sullivan, Paula Wilcox and Sally Thomsett, and then George and Mildred, both hugely successful series, from 1973 until 1980. There were movie spin-offs for both shows, while other films include Ken Russell's The Devils and The Boyfriend. At the consumer end of the film industry, Brian is a keen film collector and Patron of the British Film Collectors Convention.
Born into a theatrical family, Linda Regan has been a professional actress all her working life. Best remembered as April the lovestruck Yellowcoat, often reprimanded for "mooning after Spike" (Jeffrey Holland) in the smash hit BBC sitcom Hi-De-Hi, Linda has worked extensively in television, appearing in both comedy and drama series, including the Bob Mortimer-penned sketch show Tittybangbang and Lynda La Plante's ITV drama Framed. Her films include Carry on England, Quadrophenia and The Last Horror Movie. Linda is also a successful crime writer, her work frequently set in the sleazy underbelly of the entertainments industry. "I am passionate about South London – it is the place I call home … My training and long career as an actress has a strong influence on my crime writing. As a performer I am led by my emotions and I now realise that as a writer I am driven in exactly the same way, ie I write about things I feel an emotional connection to. I know I only want to write about South London crime." Linda is currently working on her fourth novel. 
This event is expected to end around 22.00.
Tickets & Pricing
Spring Season 2011 ticketing applies.